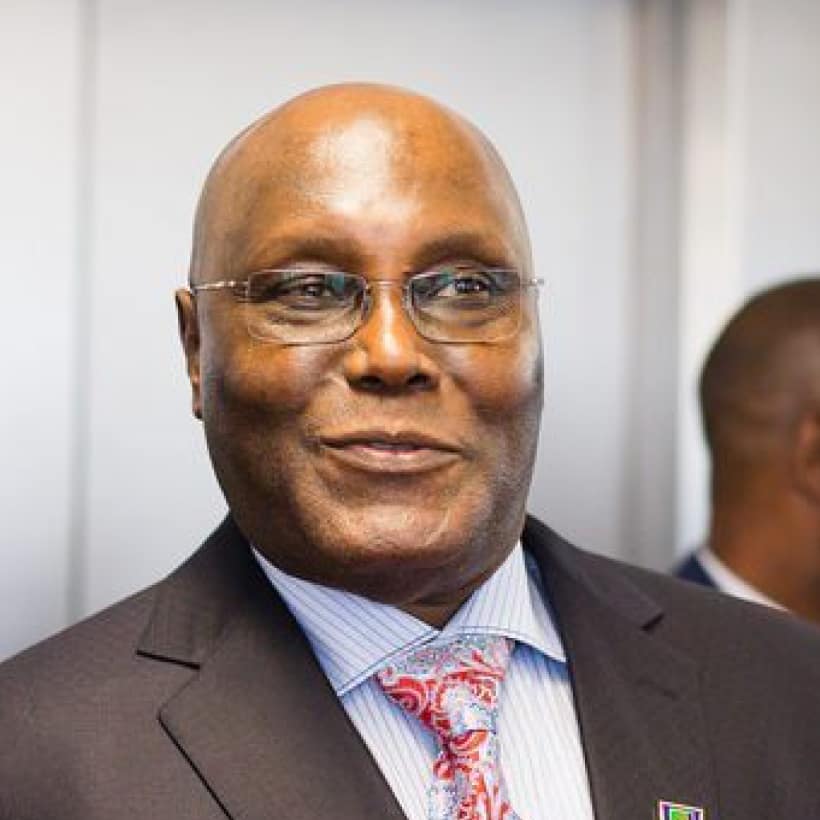 Atiku Abubakar
Political Party:
Peoples Democratic Party (PDP)
Alma Mater: Ahmadu Bello University / Anglia Ruskin University
Occupation: Businessman and Politician
Age: 75
Presidential
Atiku Abubakar GCON (born 25 November 1946) is a Nigerian politician and businessman who served as the vice president of Nigeria from 1999 to 2007 during the presidency of Olusegun Obasanjo. He ran as governor of Adamawa State in 1990, 1997 and later, in 1998, being elected before becoming Olusegun Obasanjo's running mate during the 1999 presidential election and re-elected in 2003.
Atiku Abubakar has unsuccessfully contested five times for the Office of President of Nigeria in 1993, 2007, 2011, 2015 and 2019. In 1993, he contested the Social Democratic Party presidential primaries losing to Moshood Abiola and Baba Gana Kingibe. He was a presidential candidate of the Action Congress in the 2007 presidential election coming in third to Umaru Yar'Adua of the PDP and Muhammadu Buhari of the ANPP. He contested the presidential primaries of the People's Democratic Party during the 2011 presidential election losing out to incumbent President Goodluck Jonathan.
Read More
format_quote
"When I am elected, I will recruit enough police and train them within the shortest possible time"
format_quote
"Nigeria is a leading country in Africa. With all its tremendous challenges, it can't be handed over to an untested leadership"
format_quote
"Privatise the oil sector. It's simply not the responsibility of the government to manage the oil sector"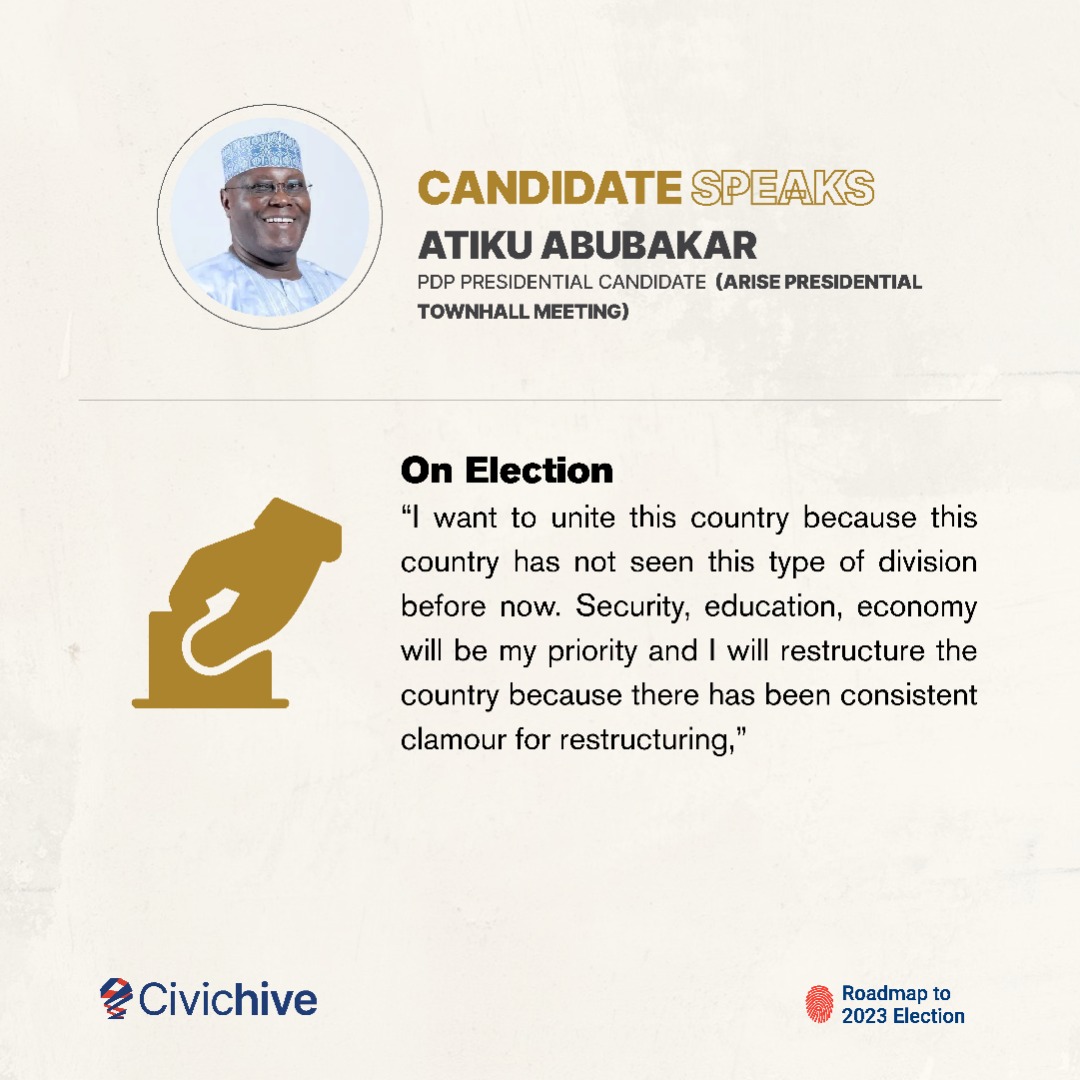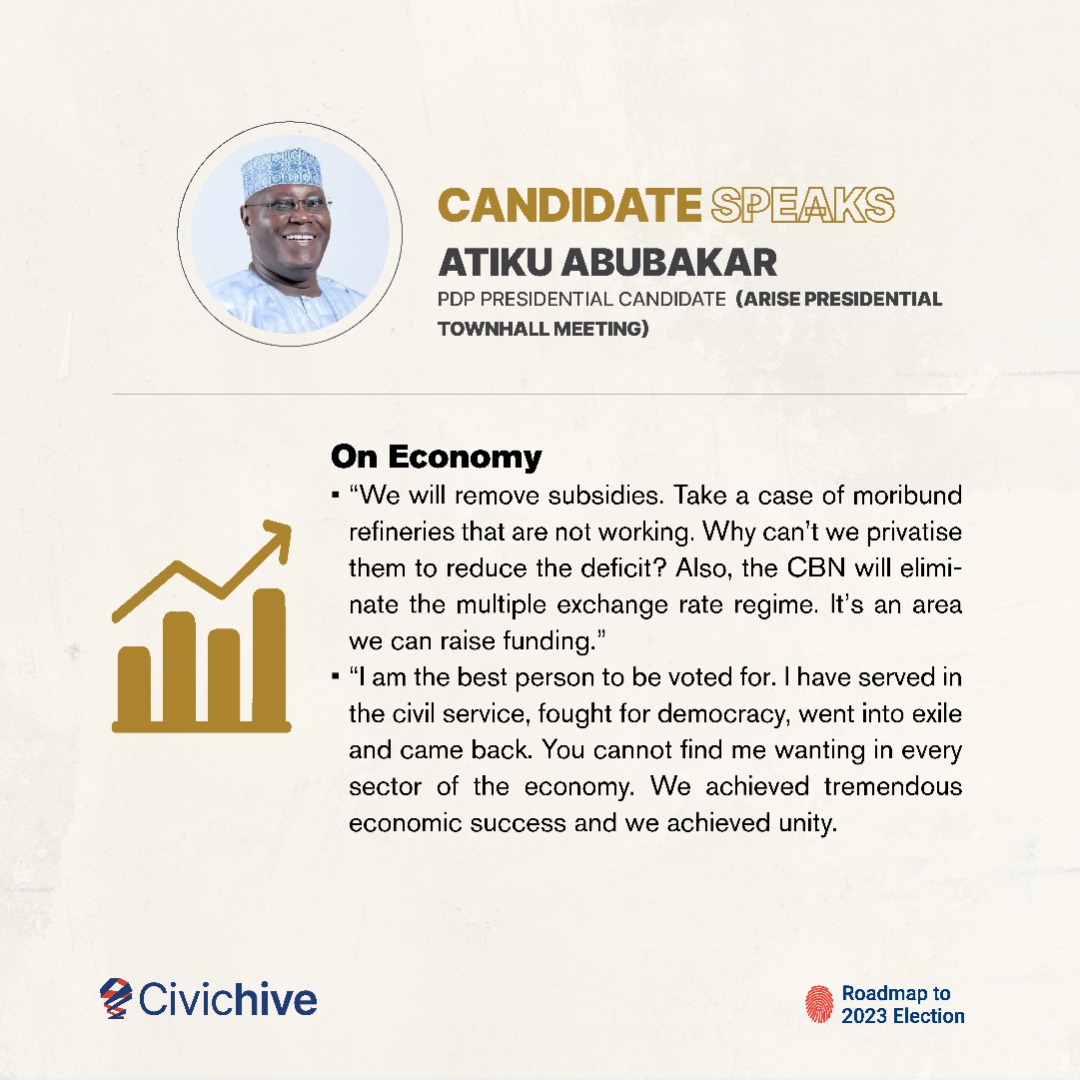 Undertake comprehensive reforms to streamline functions of agencies in the sector and transfer responsibilities for greater efficiency.
Federal Ministry of Education to focus on its core functions of policy design, standardisation, monitoring and evaluation.
Set up an agency for the regulation of private tertiary education.
Vigorous promotion of Science and Technical Education to create skills for the new economy.
Invest to improve access to qualitative as well as industry-relevant education with access, equity and quality receiving prominent attention.
Increase investment in social infrastructure by the federal and state governments.
Ensure a comprehensive reform of the Federal Ministry of Health and its agencies. Ministry to focus on policy design, standardisation, monitoring and evaluation.
Accelerate Nigeria's transition towards achieving universal access to affordable and quality healthcare services for all by 2030
Unlock market potential of the health sector by engaging the private sector
Encourage medium and large-scale pharmaceutical industries for the local production of essential drugs.
Expand healthcare professionals to the frontline and attract Nigerian doctors in the diaspora to reverse brain-drain.
Target 10,000MW transmission capacity over the short term and 25,000MW power generation through a mix of energy sources;

1 million housing units;

Increase refining capacity to 2 million barrels per day;

Construction of 5,000km of modern railway lines;

Construction of 70,000km of road networks.
Inclusive and responsive governance that embraces Nigeria's diversity as the primary tool for promoting national unity;

Increase police workforce strength to 1,000,000 million personnel;

Strategic engagement with state and non-state actors in theatres of conflict;

Streamlining the functions and operations of policing actors in Nigeria to enhance efficiency and effectiveness;

Emphasise

prevention

of corruption rather than detection and subsequent sanction;

Foreign policy thrust that will have the promotion of economic diplomacy at its core.
Improve Nigeria's food security index from the current 40.1% to 70% 

Reduce food import share from the current estimation of 20% to 5-10%

Achieve a sustained increase in manufacturing output from 9% to 30% of GDP by 2025

Reduce dependence on imported raw materials

Increase the MSME funding window from the current N200 billion naira to N500 billion naira

Harmonisation of State and federal tax laws to avoid over-taxing businesses

Increase the inflow of foreign direct investment to a minimum of 2.5% of GDP by 2030

Embolden the Nigerian Export Processing Zone Authority (NEPZA) in the establishment of Special Economic Zones (SEZs) across the 6 geo-political zones.
To raise GDP per capita from approximately US$2,000 dollars to US$5,000 dollars by 2030;

Expand Nigeria's export base;

To make Manufacturing 30% of GDP;

To create 3 million new jobs and lift 10 million poor Nigerians out of poverty yearly;

To make Nigeria Africa's leading FDI destination.
Improve and strengthen the education system to make it more efficient, more accessible, more qualitative and relevant;

Promote an all-inclusive system which will carry along citizens with special needs;

Ensure universal access to basic maternal and child health, reproductive health, immunization and mental health as well as effective therapies;

The government will position itself to deal proactively with emergency epidemics like Ebola, Lassa, COVID-19 and others which occasionally afflict the people;

Lift 10 million fellow Nigerians out of extreme poverty annually; 

Expand the social protection currently expanding from the current 3.10% to 7% by 2027;

Institute microcredit scheme for home-based income generating activities;

Review and expand the scope of the School Feeding Programme;

Reduce the rate of unemployment and under-employment to a single digit by 2025;

Target the creation of up to 3 million self and wage-paying employment opportunities
in the private sector annually- 1 million apprentices, 2 million jobs, 500,000 thousand student enrolment and 100,000 thousand entrepreneurs.
Champion institutional reforms of anti-corruption agencies and strengthen them for more effective

Launch a comprehensive National Anti-corruption Strategy that is based on the rule of law, separation of powers, neutrality and non-partisanship.

Strengthen policies and measures for detecting corruption through a strong technology infrastructure that supports the end-to-end operations of government businesses for transparency, accountability, efficiency and effectiveness

Ensure that judgments on corruption cases are fully followed through and enforced by the appropriate law enforcement agencies.

Review the reward system for public and civil services

Strengthen anti-corruption public enlightenment.

Enhance whistleblowing and witness protection policies

Promote the rule of law
• Champion institutional reforms of anti-corruption agencies and strengthening them for more effective
• Launch a comprehensive National Anti-corruption Strategy that is based on the rule of law, separation of powers, neutrality and non-partisanship
• Strengthen policies and measures for detecting corruption through a strong technology infrastructure that supports the end-to-end operations of government businesses for transparency, accountability, efficiency and effectiveness
• Ensure that judgments on corruption cases are fully followed through and enforced by the appropriate law
enforcement agencies
• Review the reward system for public and civil services
• Strengthen anti-corruption public enlightenment
• Enhance whistle blowing and witness protection policies
• Promote the rule of law