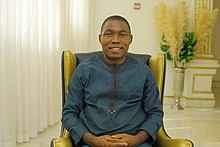 Adebayo Adewole Ebenezer
Political Party:
Social Democratic Party (SDP)
Alma Mater: Obafemi Awolowo University
Occupation: Lawyer and Politician
Age: 50
Presidential
Adewole Adebayo (born 8 January 1972) is a Nigerian Lawyer and Founder of KAFTAN TV. He is currently running for President of Nigeria under the Social Democratic Party (Nigeria). Adewole Adebayo began his legal career as a litigation lawyer at Tunji Abayomi and Co in Lagos, Nigeria.
After two years of legal practice, he founded his own law firm, Adewole Adebayo & Co., House of Law, in 2002. In 2016, Adewole Adebayo established KAFTAN TV. Adebayo sponsors nearly 2,000 young Nigerians in Nigerian and foreign tertiary institutions, in addition to numerous people he has financially empowered across the country. Adebayo is a public affairs commentator who provides advice on national issues on occasion and participates in Nigerian politics as a member of the Third Force.
On January 15, 2022, Adewole Adebayo declared his intention to run for the office of the Nigerian president. He is running for president of Nigeria in the 2023 Nigerian general election under the Social Democratic Party (Nigeria).