Despite significant advances in women's rights around the world, Nigeria continues to see a troubling decline in women's political representation. A total of 15,336 persons ran for all elective positions available in the 2023 election. Female candidates accounted for only 1,542 of the 15,336 total, and only 78 were elected, bringing the total number of women who were not elected to 1,542. These are the problems. 
Our recently conducted Twitter space in partnership with Document Women brought together women who are passionately promoting gender equality in Nigerian politics, and doing the work to make a difference. This served as a platform to highlight some challenges faced by female politicians, proposing policy reforms, and investigating the role of cultural and societal norms.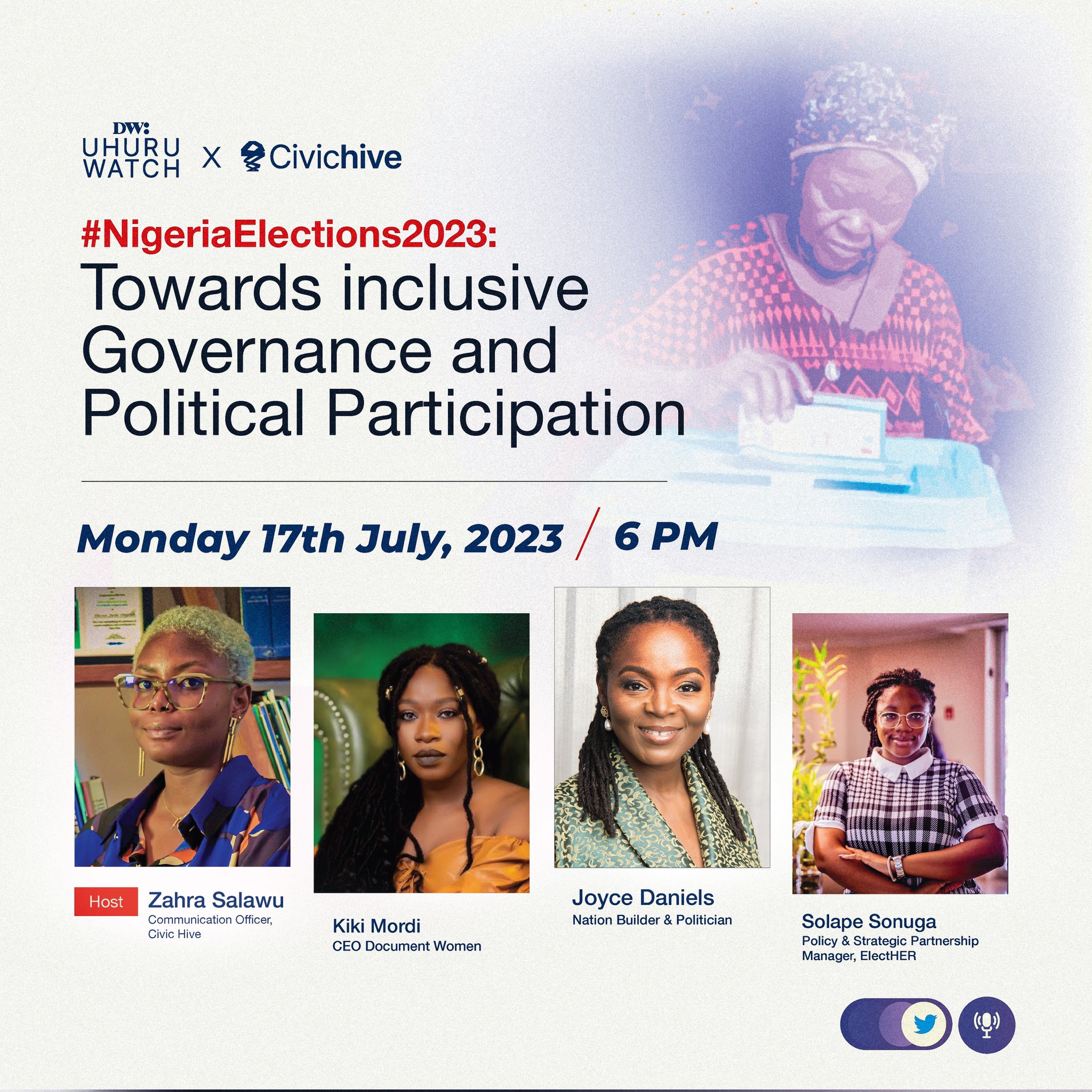 The identification of policy solutions that can enhance gender equality in Nigerian politics was a major discussion during the Twitter Space. One of our speakers, Solape Sonuga, the Policy & Strategic Partnership Manager, ElectHER, offered a variety of approaches and policy solutions, including legislative backing, adopting gender quotas, frameworks, domesticating national gender policies, improving women's political education and training, assuring equal access to campaign financing, creating supportive networks for female politicians and media regulations.
She emphasised the need for political parties to be more intentional about women's representation in governance and the domestication of the 'Violence against person prohibition' Act across all states in Nigeria to help in curbing gender-based violence. These policy recommendations seek to break down institutional borders and create a more inclusive political scene in Nigeria.
Another speaker, Joyce Daniels, a Politician who contested a political position in Nigeria also cited the role cultural and societal norms play in preventing women from entering politics in Nigeria. The discussions focused on breaking down traditional gender roles, challenging cultural norms, and promoting progressive narratives that highlight women's leadership. She also shared her experience in the Nigerian political scene and shared some of her success stories thus far. 
The Twitter Space was a vital starting point for raising awareness and fostering dialogue, but it is crucial to maintain momentum and turn ideas into action. We call on stakeholders, including civil society organisations, political parties, and government agencies, to work together to put the suggested policy reforms into action and encourage women to take on leadership roles in Nigerian politics. Furthermore, participation through follow-up Twitter Spaces, seminars, and mentoring programmes can help to create a supportive environment for aspiring female politicians.
The impact of this virtual gathering will be realised through continued efforts to implement policy reforms, challenge norms, and enable women to take their rightful role in Nigerian politics.