In recent years, Nigeria has witnessed a growing emphasis on promoting gender equality and empowering women in various sectors of society. The numbers recorded in the corporate and business sectors are notably positive.  
In 2020, data from the National Bureau of Statistics noted that women made up 42.10 per cent of the total number of employees in federal ministries, departments and agencies, and 31.97 percent of them were on the highest-ranking levels (grades 15–17) and a 2021 assessment of the top thirty companies listed on the Nigerian Stock Exchange, the International Finance Corporation (IFC) reported Nigeria performed fairly on the global scale.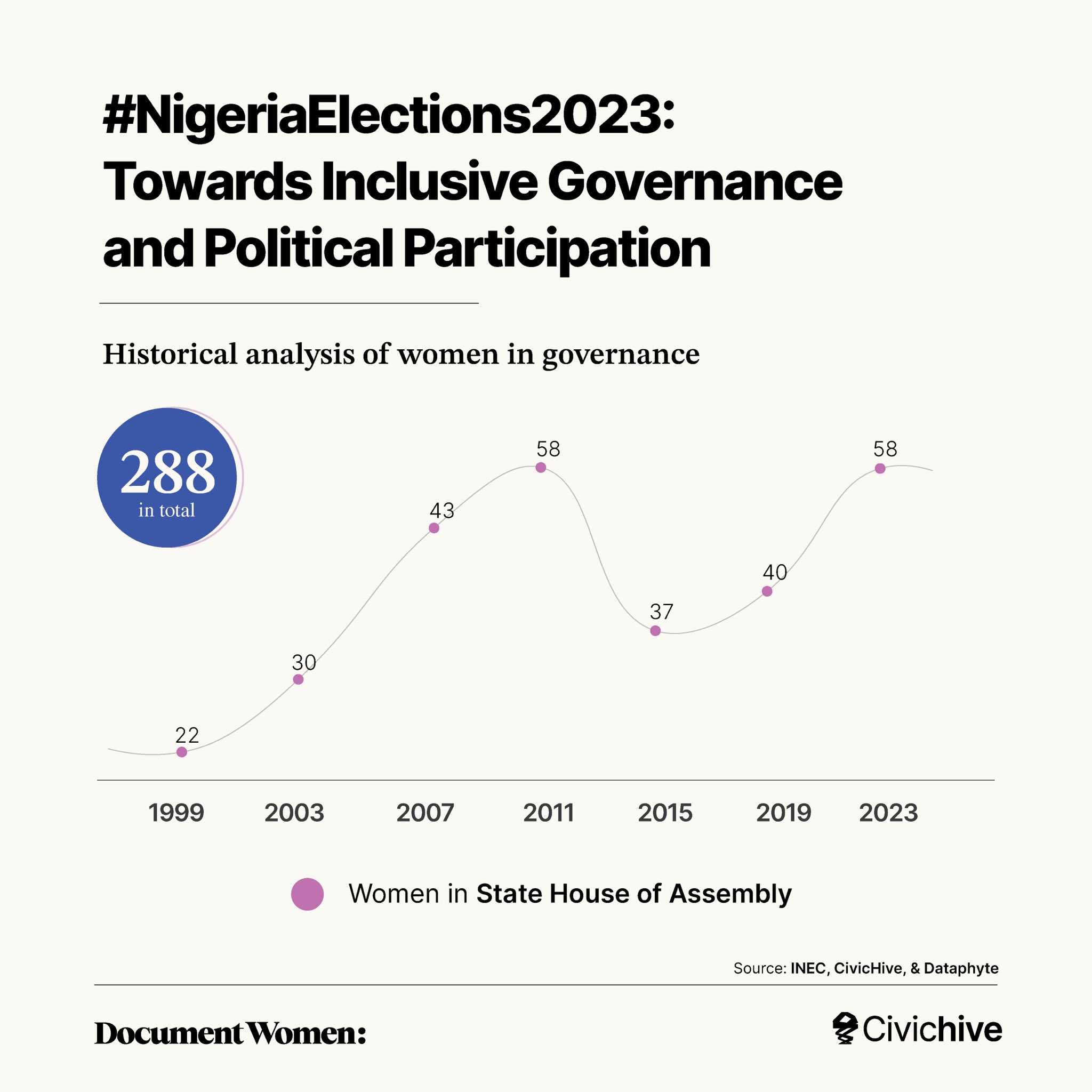 However, in governance, the numbers leave much more room to be desired.  Since 1999, only 176 women have been elected into the National Assembly (41 senators and 135 members of the House of Representatives), compared to 3,111 men (722 senators, 2,391 reps). 
Women's representation in Nigerian politics has shown a slow trajectory over the years, albeit with room for improvement. In the 2019 general elections, women constituted approximately 4 percent of the total elected representatives in the National Assembly (comprising the Senate and House of Representatives). This figure, although relatively low, when compared to previous elections.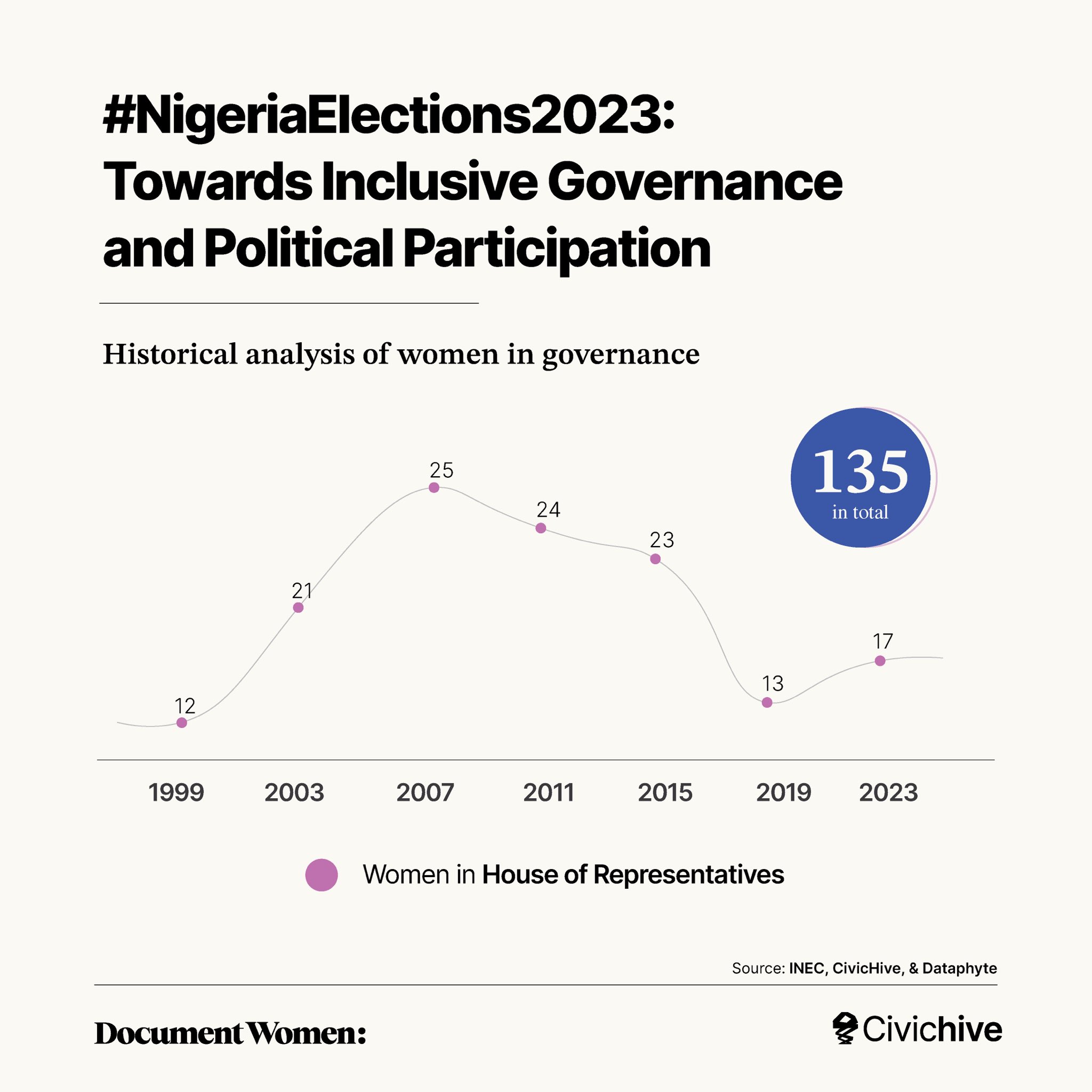 Despite the progress, women in Nigerian politics still face numerous challenges that hinder their full participation. The primary obstacles that persist include deep-rooted cultural and societal norms that perpetuate gender stereotypes and limit women's access to political spaces. Traditional gender roles, patriarchal systems, and discriminatory practices continue to create barriers for women seeking to enter politics, campaign for office, and attain leadership positions. Furthermore, limited financial resources, inadequate support networks, and a lack of mentorship opportunities often impede women's political ambitions.
Violence also plays a part in the participation and visibility of women in politics. In 2019, A People's Democratic Party's Woman Leader of Wada Aro Campaign Council, Ochadamu Ward, in Ofu Local government, Kogi, was burned to death.  Salome Acheju Abuh was burnt alive in her house at Ochadamu Kogi State on November 18, shortly after the announcement of the results of the governorship election held in the state on November 16.
"As a woman, if you come out boldly to contest in Bauchi State, they would say you are a prostitute. If they call you for a meeting at about 10 p.m. or 11 p.m., people would say you were going for 'business' (prostitution) and not for politics," said Mantuda Adamu, a candidate of the Green Party of Nigeria (GPN) Bauchi said in 2019.
To ensure a more inclusive political landscape, Nigeria must address the challenges faced by women in politics and implement targeted strategies to promote their participation.  
This research aims to shed light on the participation of women in Nigeria's political landscape, particularly focusing on the now-concluded 2023 elections. By examining the involvement of women in politics and highlighting the hurdles they encounter, we aim to shed light on the current state of women's participation and underscore the importance of creating an inclusive political landscape.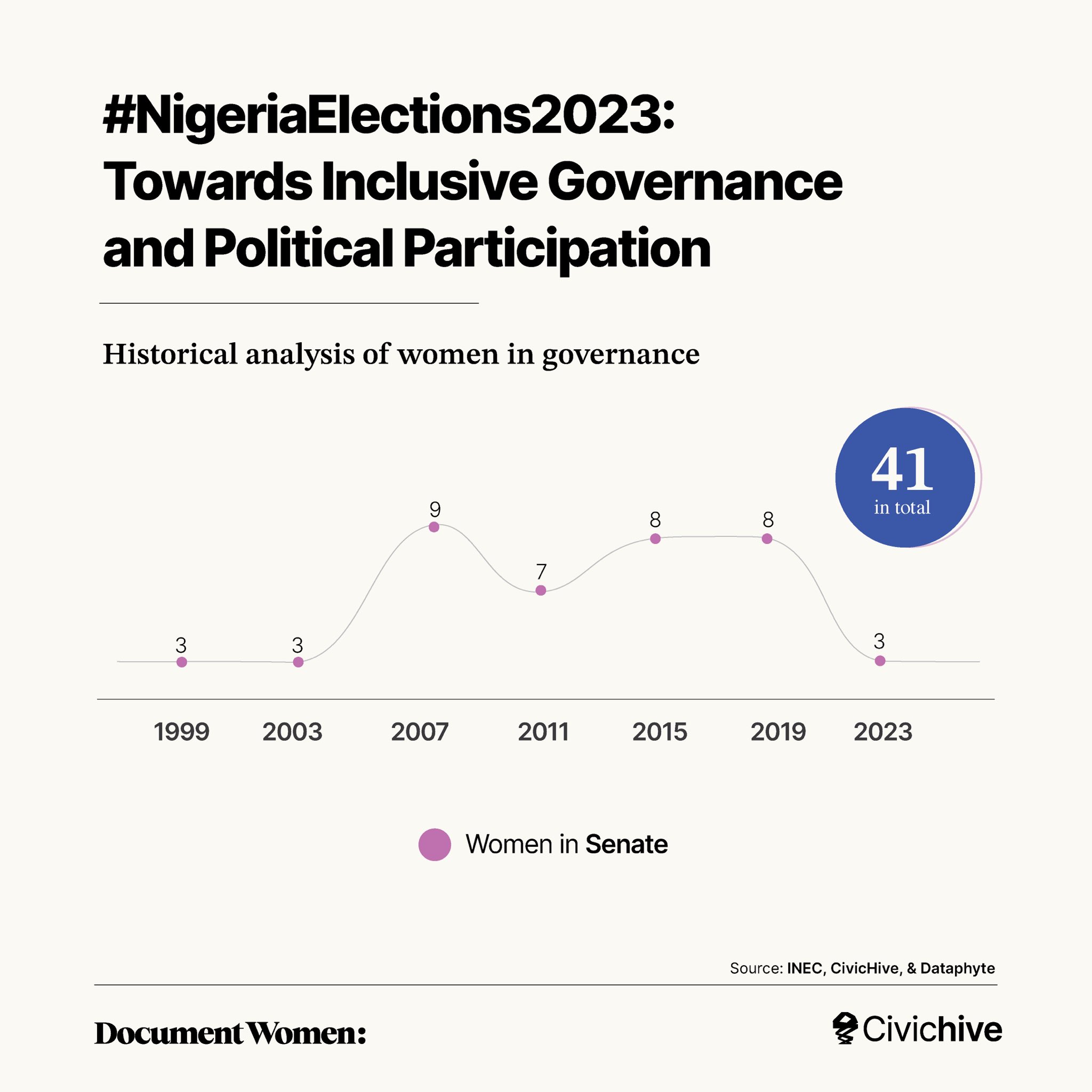 Using global rankings such as the Gender Equality Index and assessing the number of women in office, Nigeria's progress towards inclusive governance and political participation for women can be gauged. On the 2022 Global Gender Gap Index, Nigeria moved 16 places up compared to 2021, but it still had a gender gap of 63.9 per cent. Out of 146 countries assessed for the index, Nigeria ranked in 141st place for political empowerment.
Towards Inclusive Governance
The inclusion of women in governance is essential for sustainable development and effective decision-making. Efforts have been made to address gender disparities and enhance women's participation in politics. Initiatives such as the National Gender Policy and the Gender and Equal Opportunities Bill⸻which was first introduced in the Eighth Senate in March 2016 and has only just passed its second reading at the Senate last month⸺have been introduced to promote gender equality and women's empowerment.
The 1999 Constitution in Article 15(2) and Article 42(1) (a) and (b) (2) and (3) prohibit discrimination based on sex, but women continue to suffer injustices and marginalisation. Barriers such as cultural norms, societal biases, limited access to resources, and violence against women in politics hinder the full participation of women in Nigeria's political arena. 
There is a need for sustained commitment from all stakeholders to eliminate these obstacles and create a level playing field for women in politics.
This article was first published on DocumentWomen.com