With 26 days left until the much anticipated general election, the country is buzzing with talks of each presidential candidate and the promises they have laid out in their presidential manifestos.
During the Moneyline with Nancy, Seun Onigbinde, founder of BudgIT, and Kalu Aja, a financial and economic analyst came together to dissect each manifestos and present their opinions on each of the presidential candidate. Nancy opened the discussion with a question that has been on everyone's mind since last year: "Will this election be different?"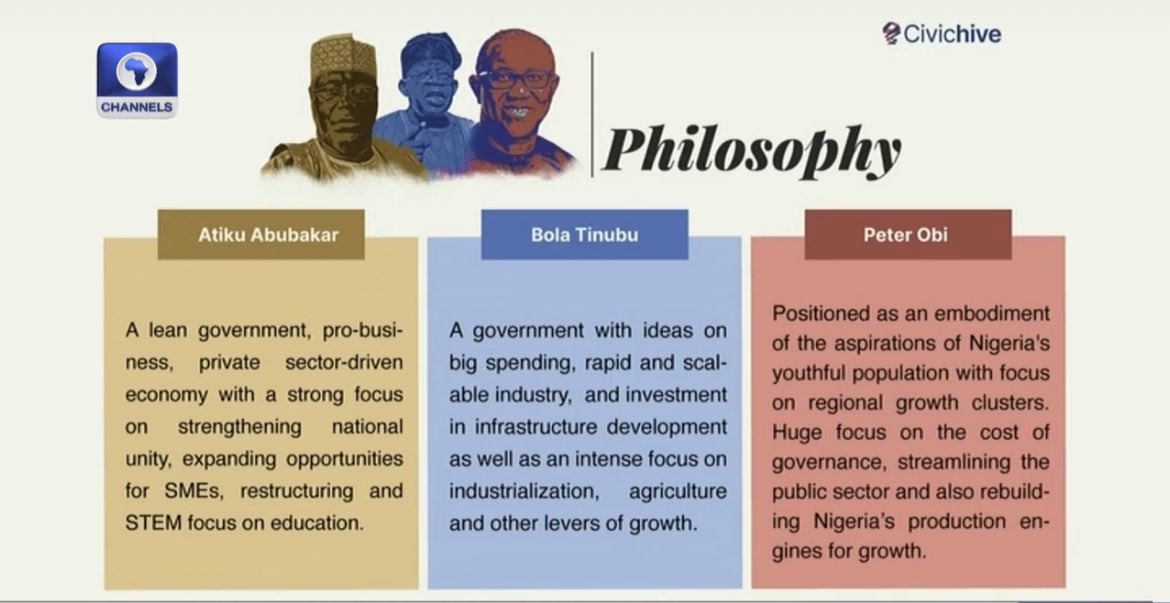 To answer this question, Seun stated the election this year would in fact be different because the two leading political parties – PDP which has led the country for 16 years and APC for 8 years – are more desperate than ever for power to either return to them or remain in their hands. Kalu believes that this coming election is more of an economic election because Nigerians are more interested now in facts and figures, and are now aware that whoever they elect not only affects their spending power, but also directly impacts their future.
Following that brief introduction, Nancy moved on to discuss each presidential candidate's manifesto, beginning with the APC candidate's Bola Ahmed Tinubu. In his manifesto, Tinubu stated that he was aiming for an economic growth of 12% each year for the next four years if elected. This plan was met with doubt from both Seun and Kalu. Such a plan isn't feasible given the numerous structural challenges plaguing the Nigerian economy such a lack of significant foreign investment, inadequate human capital investment, low productivity level, and a lack of policies and ideas that can ease business. Seun goes on to add that the manifesto decouples revenue from spending and that Tinubu doesn't look at preservation of private capital, inflation and Nigeria's debt which is projected to only increase by 10 trillion naira in 2025.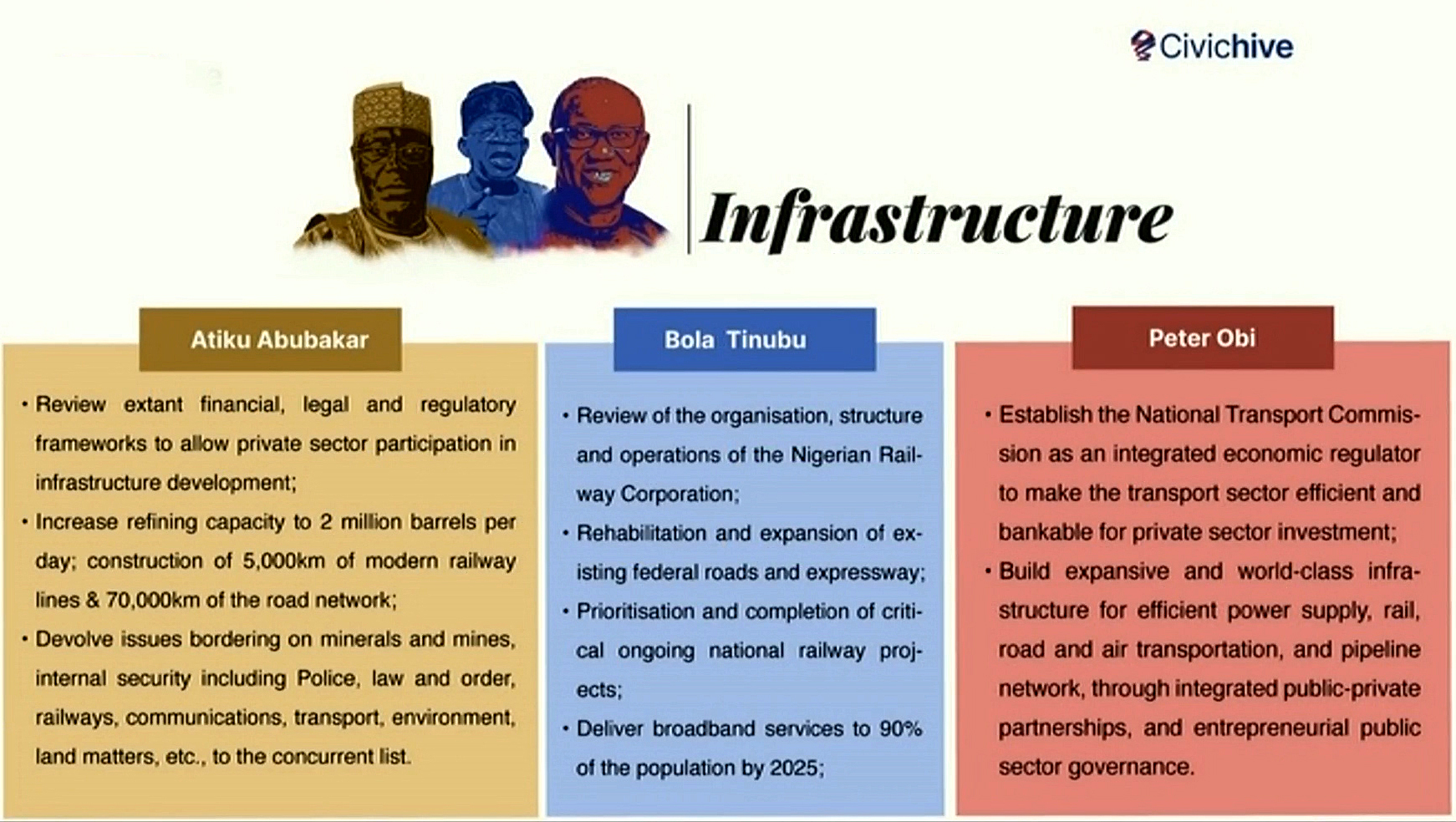 Concerning the manifesto, Kalu believes Tinubu is trying to copy what Roosevelt did in the US after the great crash in 1929 which was basically full employment. The problem is that it didn't work then, and he believes it won't work now for Nigeria because we don't control our currency. This plan might lead to an increase in inflation and might drive away foreign investment. Similar to what Seun said, he stated that structure has to come before the growth yet Tinubu is talking about massive expansion in the monetary capital of Nigeria without structure.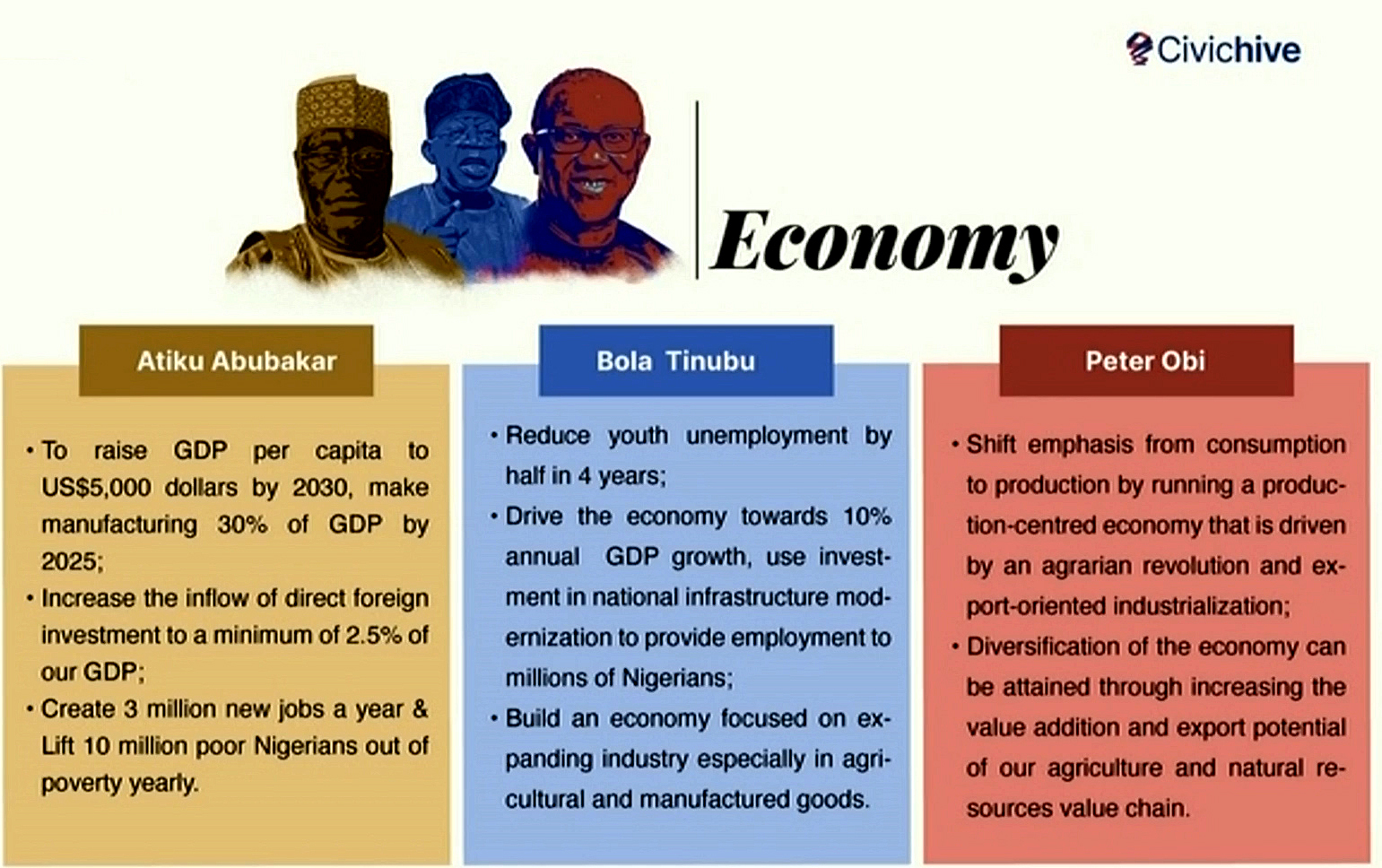 The next manifesto that came under scrutiny was that of Atiku Abubakar. Atiku's dream is to restore Nigeria to its pre-2015 state. Unfortunately, Seun mentioned that his dream may never see the light of day because the Nigeria of today is different from the Nigeria of that time. More Nigerians are poor and debt servicing is at an all time high. He commended Atiku for the idea of being private sector driven as "the private sector is the engine of growth" and his manifesto had a more clear path about job creation. However, his plans to increase GDP from 2000 dollars to 5000 dollars is not feasible because it requires a growth of 13% which is higher than what Tinubu's manifesto proposed.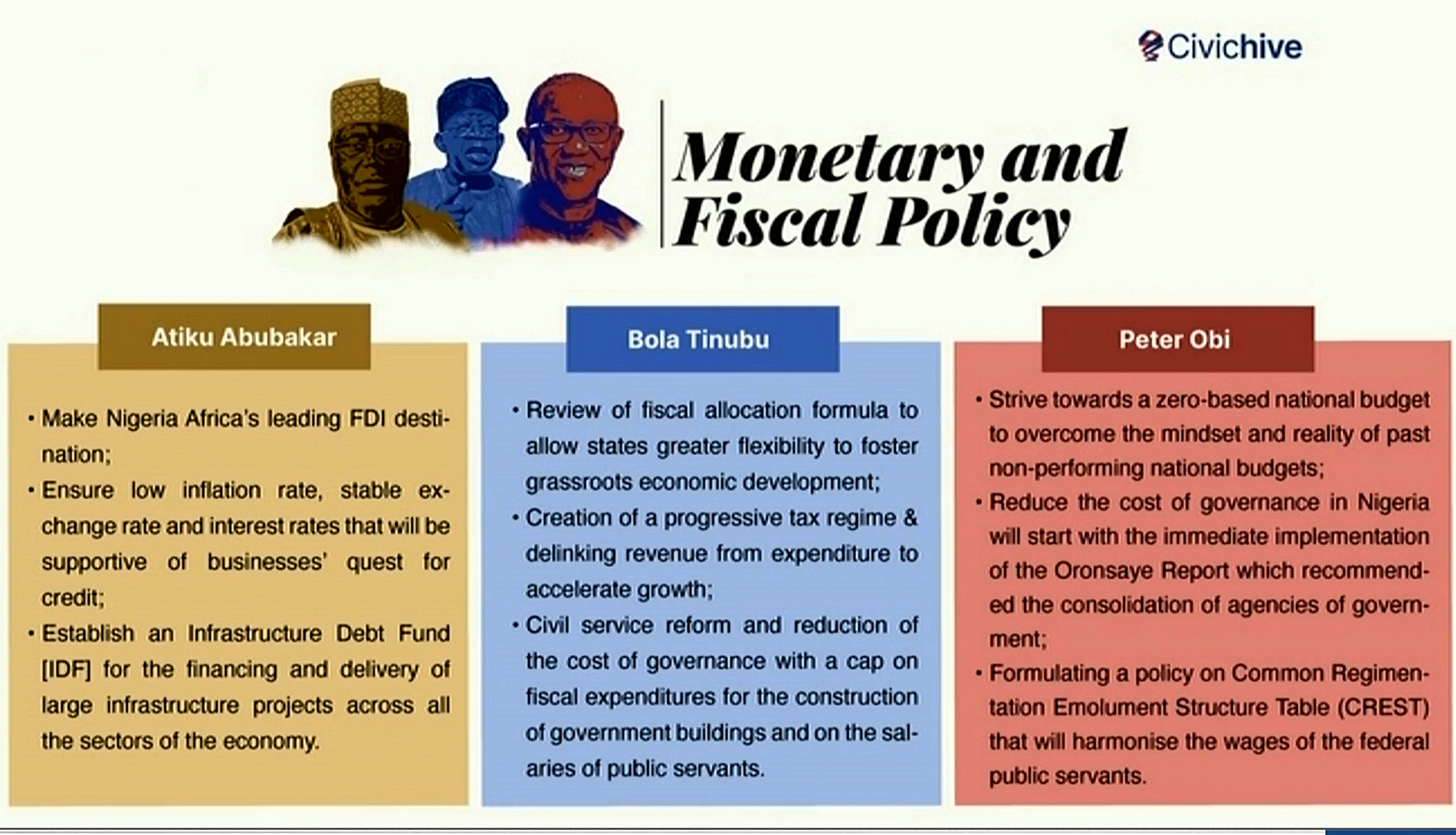 In contrast, Kalu believes Atiku's manifesto is perfect just that it is 4 years late. Nigeria has new problems which Atiku doesn't address, and there's no linkage between his plans, manifesto and ideology.
Concerning insecurity, Kalu believes that it can only be fixed through the economy, he believes job creation would fix the insecurity in Nigeria although, he's not seeing the linkages in the manifestos concerning how it will be done. Comparing the two governments that have ruled Nigeria for the past 24 years, Seun believes the economy would tell if Nigerians remember their reason for voting out PDP in the first place. Nigeria would have to compare the current state of things under APC and how things were under PDP to come to a conclusion.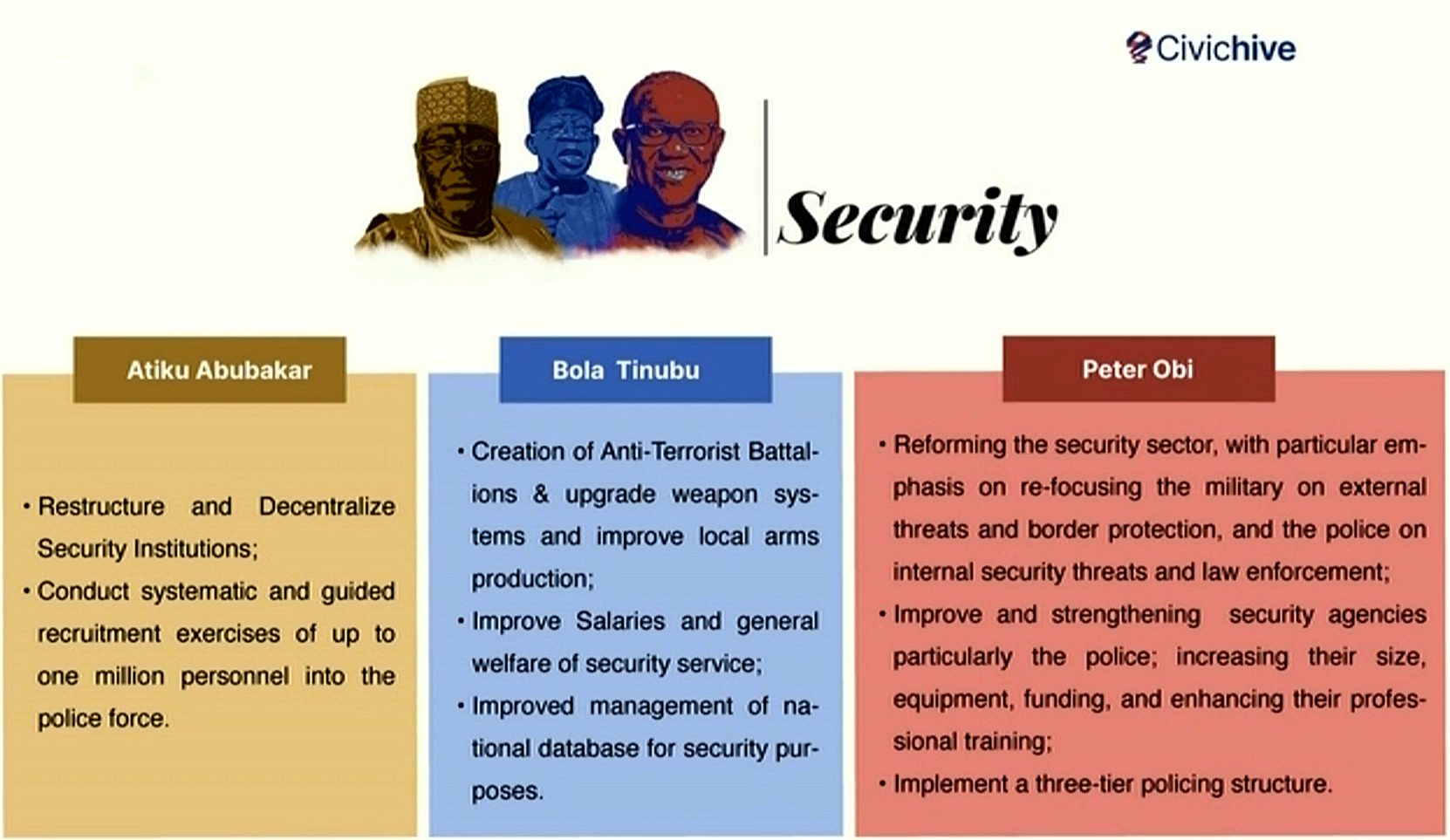 The discussion quickly moved to Peter Obi's manifesto which Kalu believes is full of a lot of new ideas, is people oriented and focused on stopping wastage. However, he criticized Peter Obi for his inadequate explanation on the subject of consumption to production stated in the manifesto. One of the new ideas Kalu mentioned is Peter Obi's aim to implement an hourly wages pay system which he believes would create more jobs. Seun stated there the manifesto didn't have enough quantifiable commitment meaning Peter Obi didn't put enough numbers in his manifesto. However, he appreciates the fact that Peter Obi is big on moving from consumption to production and that he was the only one to address the cost of government.
Finally, Rabiu Kwankwaso's manifesto stood out for its failure to address fuel subsidies. Seun believes that he didn't really touch on the economy as much as he should have and didn't contextualize economic issues well. He commended him for theorizing things in his manifesto, but criticized him for the lack of key agendas to anchor his reform agenda on. For example, Atiku is linked to pro business and restructuring, Tinubu wants to be a big spender who is mainly focused on agriculture and industrialization, and regional coordination while Peter Obi is focused on consumption to production, cost of governance, and insecurity.  Kalu simply stated that the manifesto is light and doesn't talk much about the economy.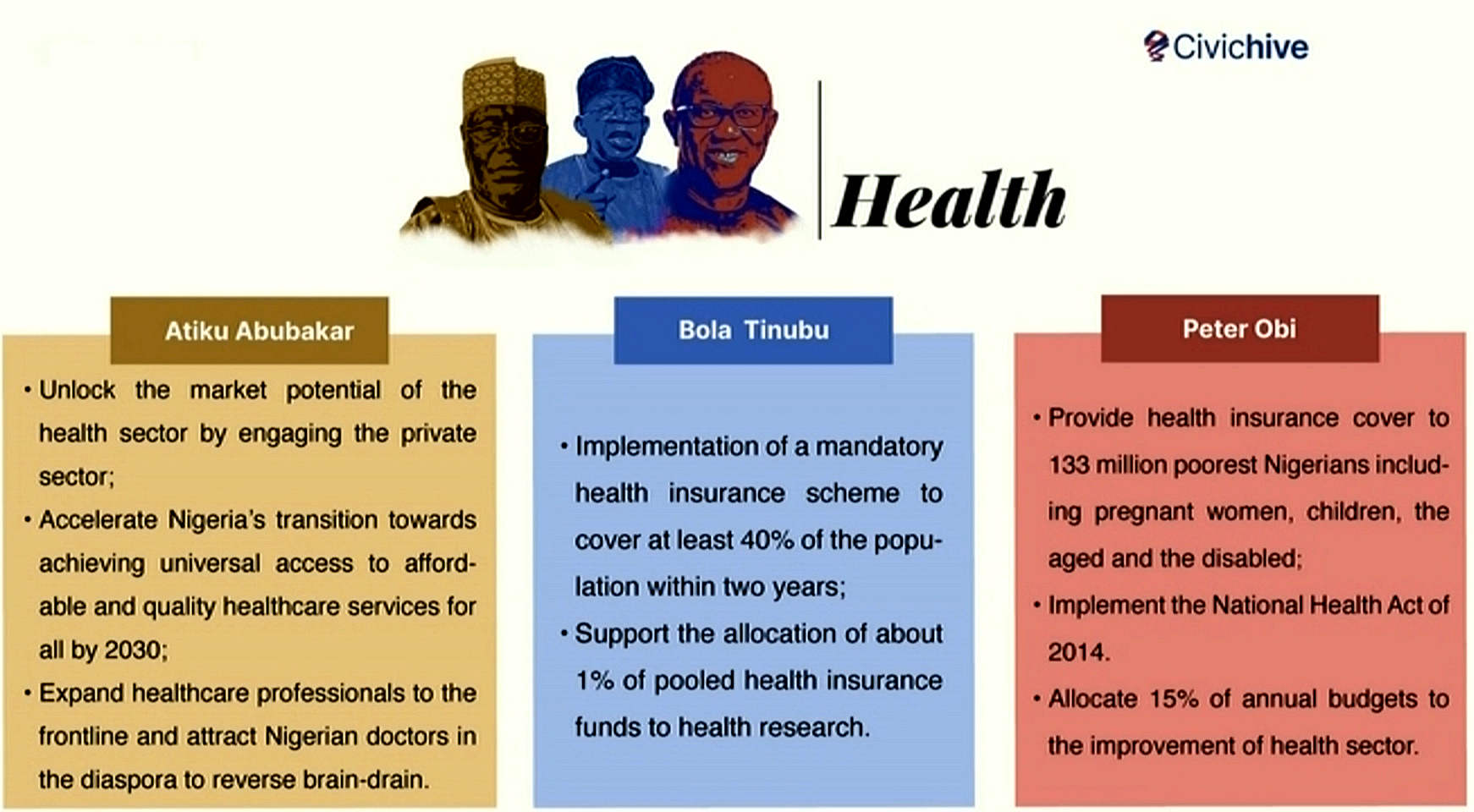 To close off the discussion, both Seun and Kalu were asked if the manifestos mattered at all. Seun was quick to answer, stating that for the sake of public record and the people's need to know what the candidate is thinking, the manifestos are important. One huge complaint Seun had with the manifestos is that no one is talking about where the money would come from because the fiscal budget doesn't make sense in any jurisdiction.
Kalu commended the Labour Party on a job well done in presenting an option, which has drastically changed the status quo. He ended the discussion by stating the youths were the main drivers of votes in February and their feelings are going to determine the future of the country.