As part of our ongoing civic engagement and education initiatives on upcoming elections, we are hosting a series of twitter spaces to discuss what citizens should take into account when casting their ballots for new leaders. Our aim is to engage Nigerians in a conversation about the issues facing Nigeria at the moment and bring consciousness to every citizen on candidates plans rather than people basing their decisions on ethnicity, religious and tribalism. Also to get citizens to be well informed about all the presidential candidates policies regarding the upcoming elections.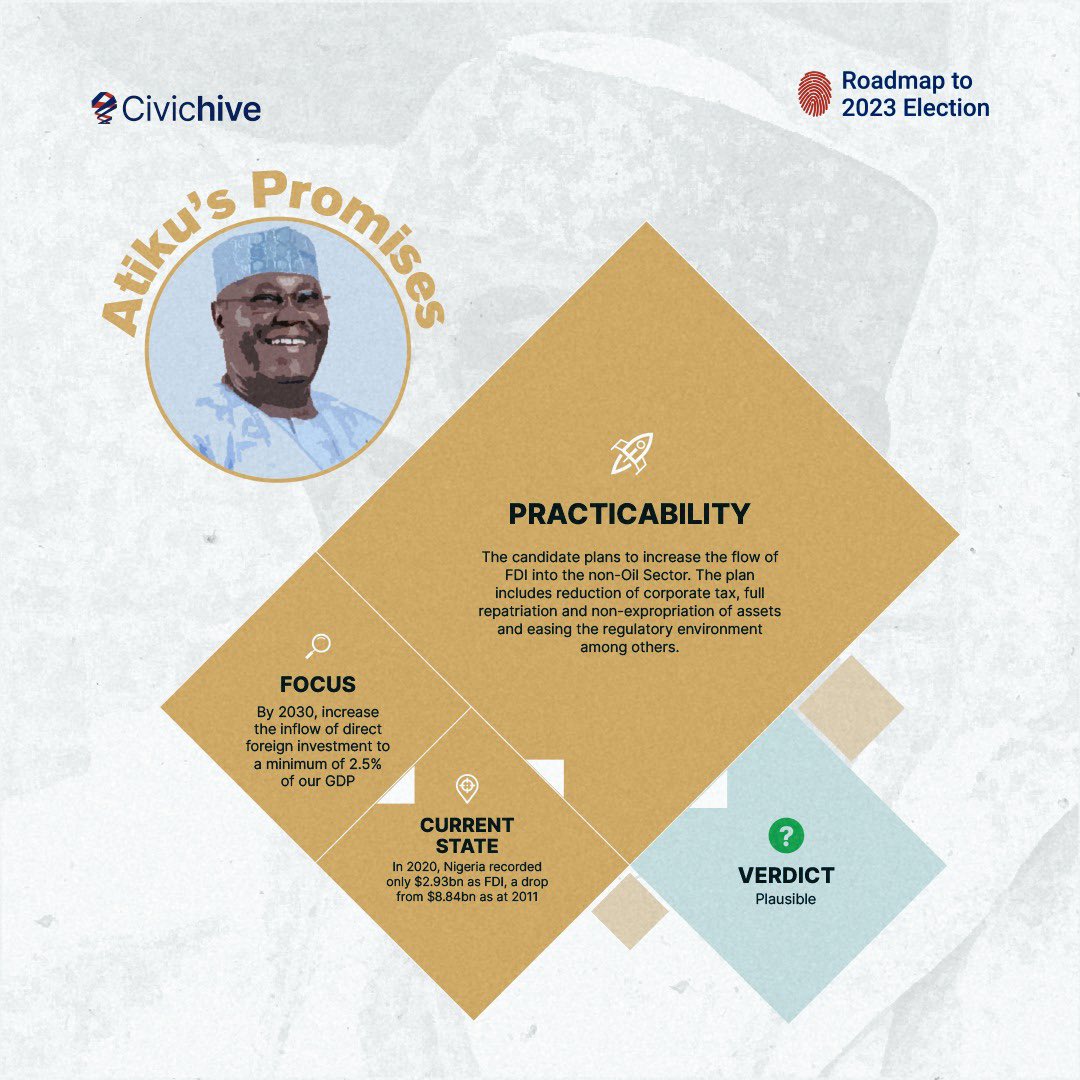 In this space, we had Demola Olarewaju, aide to Atiku Abubakar, as a guest to discuss on our recently published analysis of Atiku's manifesto tagged "My Covenant with Nigerians". Speaking on the analysis, Demola noted that " Your analysis so far rest on a platform of where we currently are and you know, looking at where we are presently to where Atiku aims to take the country to, it might look like a difficult task, but I would suggest that, you know, we look at the situation as it was in 1999 when the Obasanjo government took over a lot of the rapid developments that we had. You know, in terms of unlocking wealth came from the policies of which Atiku was the chairman of the National Economic Council at that time, a lot of reforms that happened at that time looked impossible.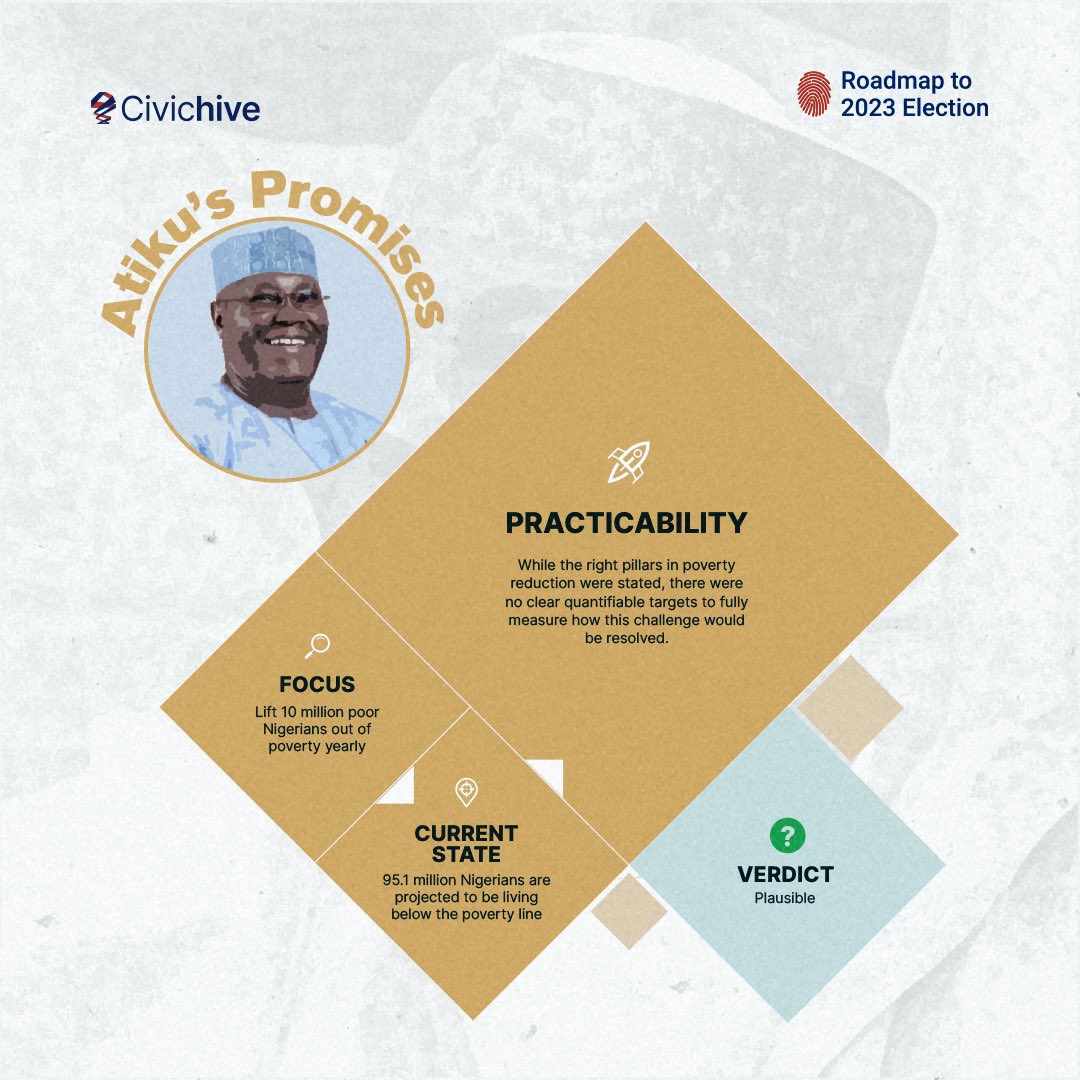 Responding to Temidayo Musa's analysis on the economic agenda, Demola narrated that "We spoke about our economic development agenda. It's an ideological question. Nigeria for the past few years under this APC regime has been pursuing its to do socialist policy in government, interventionist policy where government heavily regulates markets and where you know, government intervention basically hinders good government and has put itself at the centre of our economic agenda as the country what Atiku is proposing is a private sector driven economy."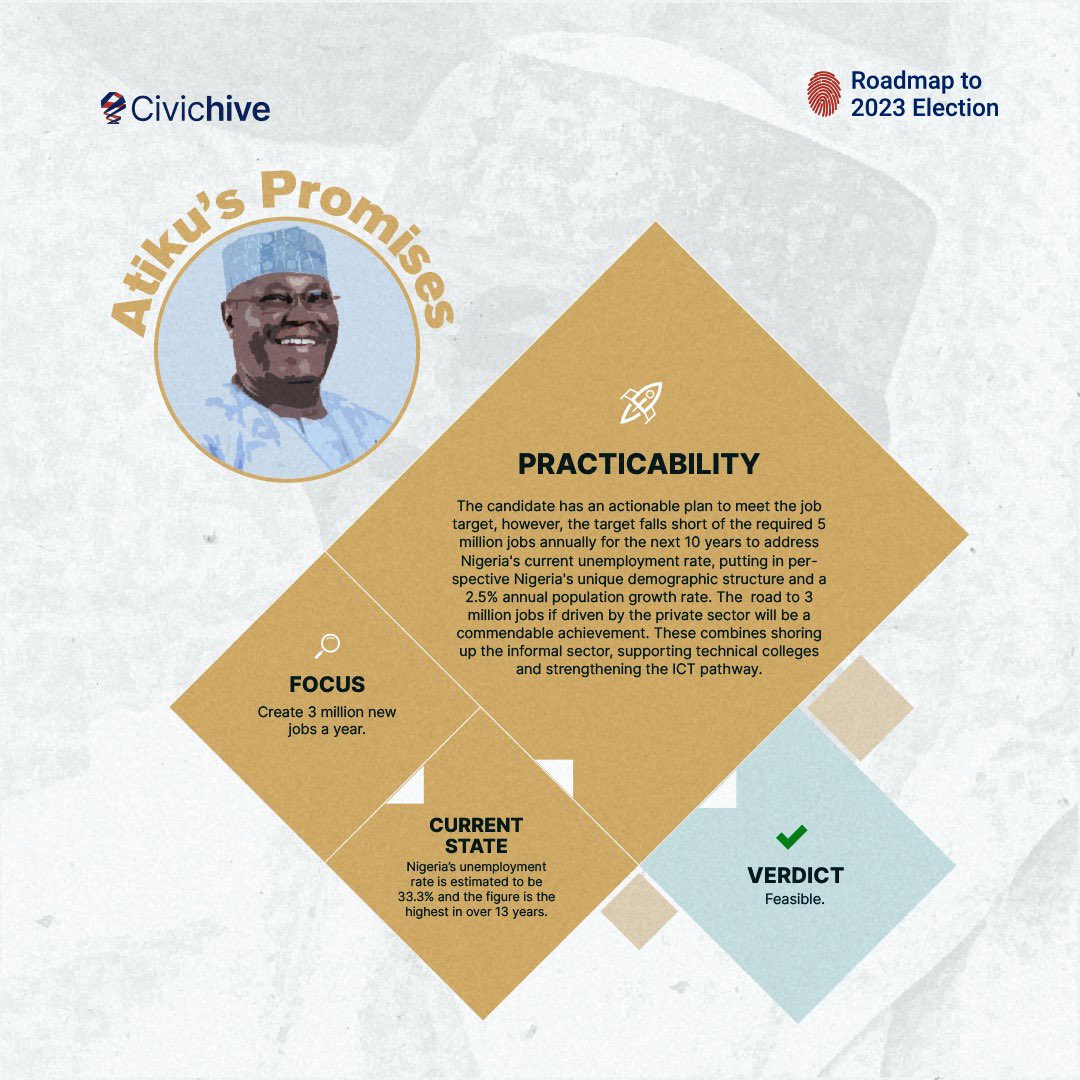 Reacting to the issue of poverty, He explained that "I heard when you said that he would lift 10 million people out of poverty. Atiku is saying that his policies will lift 10 million people out of poverty and it is not difficult if you look at what we've achieved in the private sector and innovation that can be unlocked. So the basic principles of this agenda is;
Private sector leadership and a greater private sector participation in development.

We will break government monopoly in every sector, from infrastructure, to refineries, to real power, and to power transmission itself. Because I know you're about to discuss power transmission now, it's not just the government intervening in that. I

Market driven reforms 
"When these three things have been put in place where you have greater private sector participation, you have the government playing a limited role; which in itself is basically to regulate and not putting itself at the centre of development. So it's really about unlocking the potential of the market by a capitalist driven economy,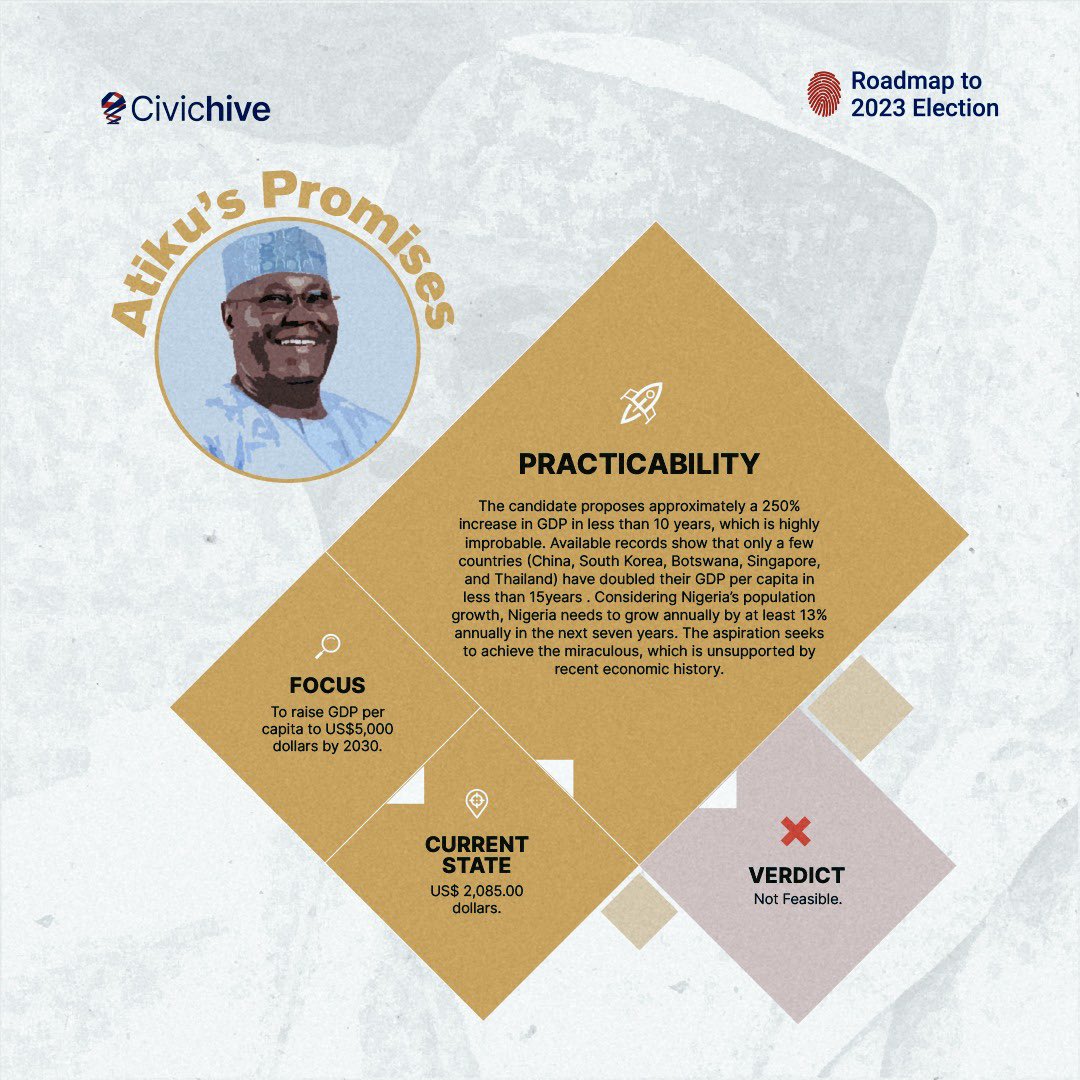 "I would want you to bear in mind that we are looking at other alternative forms of power and thermal. We are looking at coal, we are looking at different forms of power; power production, or power generation, and then also on the transmission side, which we believe should be privatised.
On the feasibility of Atiku's manifesto and promises, he further explained that " there are no promises there. I want you to look at it from the angle that if we do those things, what will be the outcome of that process? If we hand over more of the value chains in different areas such as manufacturing. For example, if you allow the private sector to drive the manufacturing sector, you know, if you remove government monopoly in different areas including refineries, rail transportation, and power transmission."
"If you give private investors a larger role in funding and managing those sectors, then the benefits will come. You know, in the same way that we did in the telecom sector when Atiku was Vice president, in the same way that you know the potential of the telecom sector was unlocked. I think we are now saying we will replicate the same thing. 
Speaking on how Atiku will provide jobs, Demola narrated that "you know it's not about government coming in to provide the jobs, it's not about people coming into government to provide the jobs. No, it's about him restricting the role of government to being a regulator, allowing the private sector to go into the market and drive growth." 
To conclude, he said "if you focus on the guiding principle, you focus more on those three things, then we'll see how those things will be done. It's more like we're coming in to lay that process to remove Nigeria from being used to the socialist country where government intervention is common in all sectors, to remove it from that sort of economy into a capitalist.Government into a capitalist society, basically. And when you have a capitalist society, I think the potential is endless."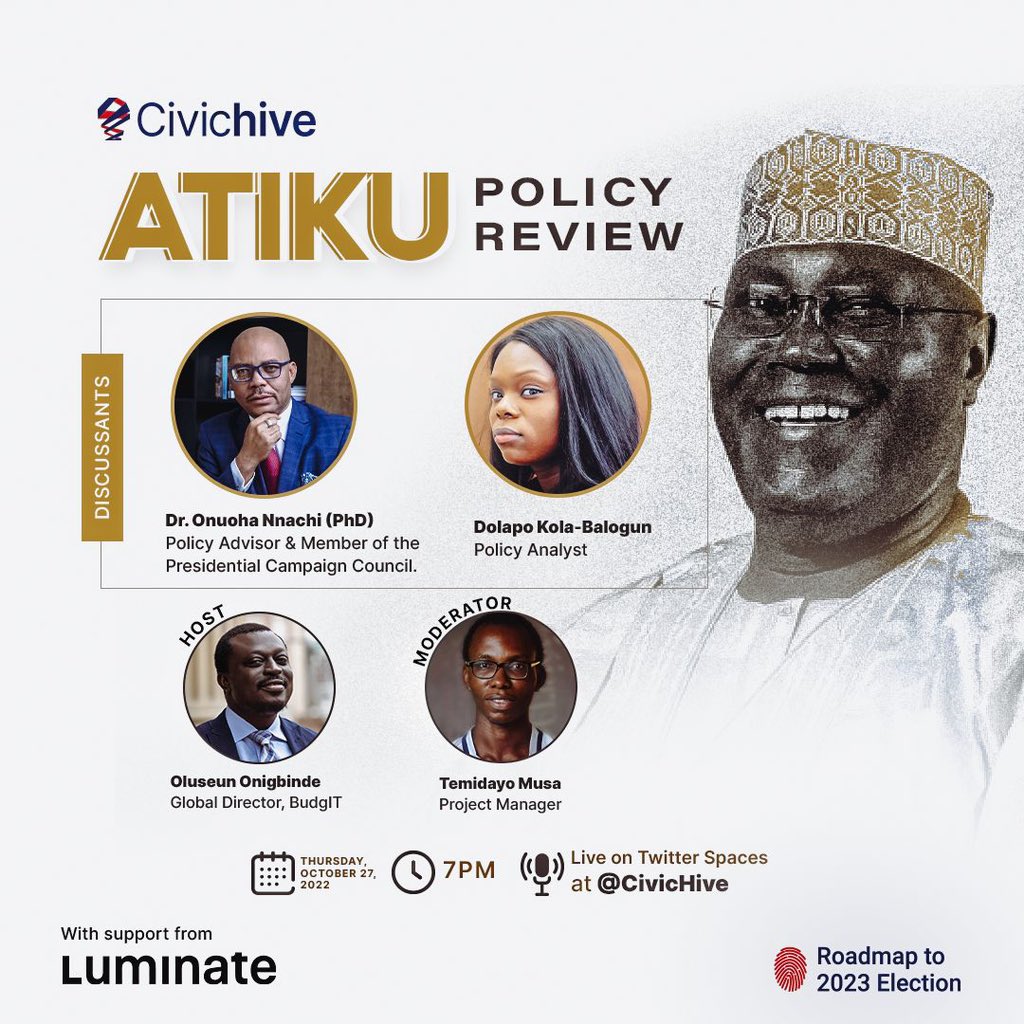 To read our analysis of https://bit.ly/Policy-Briefs