The 2023 general elections are fast approaching, as we are 104 days away. On September 28th, 2022, the Independent National Electoral Commission lifted the ban on political campaigning for the 2023 elections. Since then, political actors have begun canvassing the streets and neighbourhoods in an effort to win over voters by employing a variety of strategies.
"Omo Ogun, Ise ya"
Ogun state had 1.71 million and 2.38 million registered voters in the general elections of 2015 and 2019, respectively. Despite an increase in registered voters in 2019, the state saw poor voter turnout in the 2019 election. In fact, Ogun state's voter turnout in the general elections of 2015 and 2019 was  31.67% and 25.51%, respectively. which signifies a roughly 19% drop in voting participation in 2019 from 2015.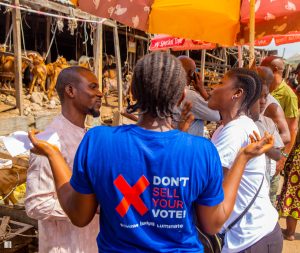 Despite the low voter participation, the state has one of the highest percentages of PVCs that have yet to be collected. According to INEC, 661,643 PVCs from the previous election remained uncollected. These figures indicate that fewer individuals engaged in the elections, which is detrimental for our democracy.
Value of a Vote
For us at Civic Hive, we are concerned about what informs people's decisions to vote, especially the kind of information they are open to and have access to. We have noticed that rather than being issue-based, elections have been riddled with ethnicity, religion, tribalism, and other identity factors that will neither improve the welfare of citizens nor the development of our dear country.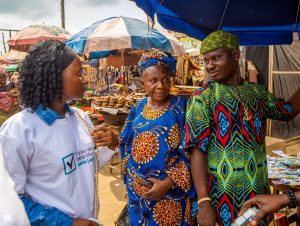 With our Value of a Vote campaign, our mission is to educate the public on the importance of electing leaders based on competence, character, and significant antecedents that are not influenced by sentimental or ethnic factors and who are ready to take bold steps in the wake of our complex realities as a nation.
"Oju ri"
During our sensitisation, we spoke to several market women, transport workers, students and road users about coming out to vote in the next election. "Kò sí alafia fun anybody, gbogbo wa kan gbinyanju ni, Gbogbo nkan lo ti gbowo lori" [There is no peace of mind for anyone, we are only just trying, everything is expensive]" said one of the market leaders that we spoke too.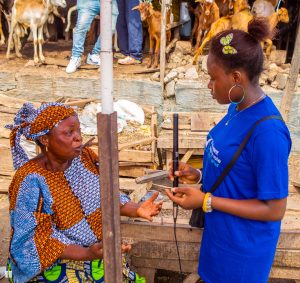 She further lamented that the majority of the people are now working extra hours and doing other hard jobs just to make ends meet. She said all these hardships will not only make people come out to vote but also make them vote for sensible people that will uplift the state.
"Ko si owo fun ibo"
At Kuto market, where we spoke extensively with the market people, some of the traders attested to the fact that a lot of these popular parties have been reaching out to them. They said they were given money for walks and also to follow them in campaigns. Nevertheless, they said they know what they are doing and that the money is "their" money but they won't vote for them in the election because they think if they did good work while in office they would not need to be paid to follow them. So they concluded to collect the money but they won't vote for them.
When we probed to know why they didn't reject the money outrightly, they reminded us that it will be difficult to do because they can just wake up and stop them from selling in the market as a retaliation or even make rent expensive.
"My Vote, My Voice"
"I made sure everyone in my family registered for their PVC, even my daughter that just finished polytechnic", said a cab driver. While some of the people we spoke to had mixed reactions about coming out to vote in the election due to security and malpractices that might happen during the election, Civic Hive enlightened them on why their votes matter and why getting involved in governance should be everyone's duty as a citizen.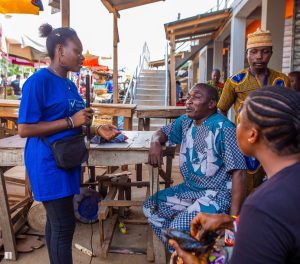 Participating in elections is one of the civic responsibilities of every citizen, no matter what we believe or whom we want to support, it is important to exercise these rights and duties. Remember, it is only those who come out to vote on election day that their votes count!