August Activities Roundup
Temidayo Musa
Wondering some of the activities we did In the month of August 2022?
On Aug 13, 2022, in partnership with RovingHeights Bookshop, we started "The Existential Conversation" by bringing thought leaders, economists and analysts to dissect the Nigeria economy and the issue of growth and development, particularly why it matters in the 2023 election.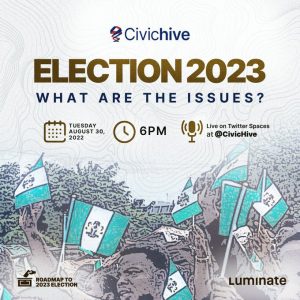 Our panelist includes Joachim MacEbong (Senior Analyst, SBM Intelligence), Odion Aleobua (CEO, Modium Communications), Oluseun Onigbinde (Author, The Existential Questions), Ayo Ladipo (Program Officer, BudgIT Foundation), and Temidayo Musa (Program Officer, Civic Hive)
You can read more about it here: https://civichive.org/the-book-reading-event-the-existential-conversation/ 
On Aug 30, 2022 We hosted a twitter space tagged "Election 2023: What are the Issues?" where we hosted thought leaders to discuss key issues needed to redirect our country back to the path of wholesome progressive development. 
On the space we had thought leaders like Prof Remi Sonaiya; who spoke on Nation-Building and the drivers for unity and national development, Adebanke Ilori Oyeniyi (Raising New Voices); On Youth Development: United by poverty, divided by partisan politics; how can young people lead the change, and Kalu Aja; On public finance, what are the key issues to consider as a nation.
We also had Zainab Haruna (Step Up Nigeria) who spoke on On Corruption and how we can push for corruption and accountable governance? and Luqman Akintola who spoke on security and how we can be truly safe in this country.
Our mission with our monthly space is to educate the public on the importance of electing leaders based on competence, character, and significant antecedents that are not influenced by sentimental or ethnic factors. In particular, we want to focus on issues that propel us toward progressive growth.
You can follow up on the conversation here to listen to the recorded version:
https://twitter.com/CivicHive/status/1564875203166994434?s=20&t=Gi4FqDmB2eDUhVBL95SNOw